A surprising mix of transparency advocates, NGOers and unabashed corporate lobbyists meet at The Good Lobby's annual Summer Academy.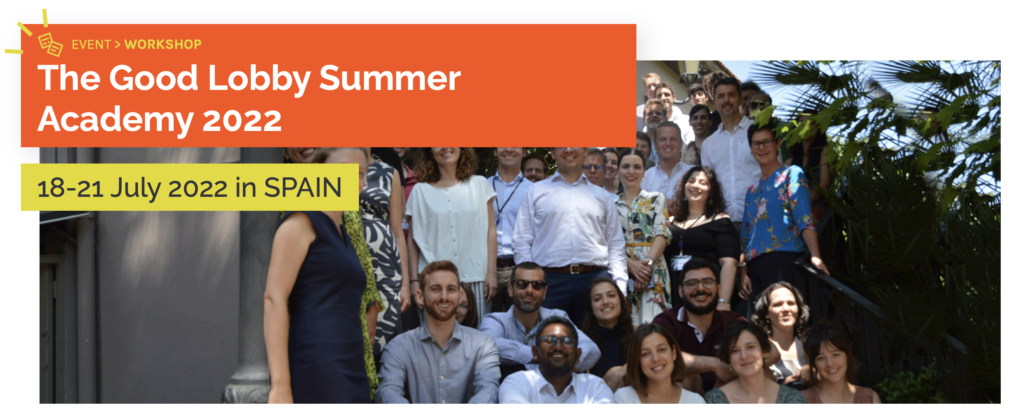 HOLA. Welcome to EU Influence, which comes to you this week from a beachfront hotel in Getxo, Spain, just outside Bilbao, where I'm attending The Good Lobby's annual summer academy. With a surprising mix of transparency advocates, NGOers and unabashed corporate lobbyists, speaking candidly under Chatham House rule, you can imagine the conversation gets pretty spicy. But rest assured, there's always another scapegoat to fall back on when it gets too hot. One participant, challenged on whether a multi-stakeholder group is actually an industry backdoor, concluded a lengthy defense: "Irresponsible journalists are the worst thing!" 
A true consensus point, if we've ever heard one! Keep reading for more insights from Basque country today and over the coming weeks.
INFLUENCE QUIZ
IN-DEMAND FOR DIALOGUE: Who's the most popular policymaker with lobbyists?
That one's pretty easy: Internal Market Commissioner Thierry Breton, who famously delights in his interactions with industry. It's the no-surprise finding from Transparency International EU's new report on lobbying since the start of the Von der Leyen Commission. (The report coincides with the relaunch of the Integrity Watch tool to track meetings at the European Commission; a change in how the Commission reports these meetings knocked the tool out of order for a bit.)
Here's your quiz: Breton is No. 1, but a commissioner's cabinet member is No. 2. Who is it?
A. Valère Moutarlier (Breton's chef de cabinet)
B. Riccardo Maggi (Executive Vice President Frans Timmermans' budget and economic expert)
C. Diederik Samsom (Timmermans' chef de cabinet)
D. Anouk Faber (Jobs and Social Rights Commissioner Nicolas Schmit's political adviser)
Answer at the bottom.
READ IT AND WEEP
NGOs DO IT BETTER: Who is actually more effective at getting their aims into legislation: the highly-paid corporate lobbyists, or the scrappy NGOs?
Turns out it's the underdog, the research suggests. A 2015 paper that analyzed 70 legislative acts proposed by the Commission between 2008 and 2010 and looked at 1,000 non-state actors found that civil society groups had a better success rate at getting what they wanted than business interests.
But why? The trends that explain that have only gotten more intense since then. That was clear from a presentation by the University of Amsterdam's M.C. Hanegraaff at The Good Lobby Summer Academy (which he granted permission to use on-record).
— Globalization: The "business community" isn't one unified entity anymore. Lobbying fights are often as much business vs. business as business vs. nonprofits.
— Political EU: Corporate lobbying is historically more technical. But as the bloc deals more with hot-button issues, NGOs are better able to deliver a political pitch.
— Stronger Parliament: Amplifying the phenomenon above.
— Professional NGOs: Civil society players are increasingly just as savvy and strategic as their corporate competitors, Hanegraaff posited — though this point got some pushback from the NGO-heavy audience.
— Changing ideological structure: Hanegraaff offered this hypothesis with a question mark because it can't be measured. But given the dynamics we saw play out with the Fit for 55 package, it's safe to say that the current Commission and key parts of Parliament are more open to human rights or environmental messages, relative to pro-business points.
CORPORATES DO IT SOFTLY: Don't fire your lobbyists yet. Hanegraaff teased some forthcoming research suggesting that business is still holding sway when it comes to what's addressed — and, crucially, what's not. Agenda-setting is a quieter form of influence, but ultimately "a much more powerful tool," he said. Long-term success at keeping matters like the welfare state and labor law restricted to the national level has been a boon for business interests, he argued.
FIRMS DO IT MORE: The indisputable winner: Agencies, at least when it comes to market share. Hanegraaf shared research showing lobbying firms are growing in dominance at the EU level, at the expense of associations and NGOs.
REVOLVING DOOR JAM
BUT WHAT ABOUT BERLIN? Usually, the capitals like to use Brussels to distract from domestic problems. Turns out Brussels isn't averse to the "look over there" technique, either.
Under fire over Uber Files and the lack of enforcement of revolving door restrictions, the Commission used its country-by-country rule of law reports to bug capitals to clean up their post-politics rules.
Schröder shame: "We would welcome the strengthening of the existing rules on revolving doors, especially for federal ministers, MPs and high-ranking officials," Věra Jourová, the Commission's vice president for values and transparency, told POLITICO's Berlin Bulletin. She added, pointedly: "I think this is particularly important given that some important ex-politicians found employment in Russian state companies in the past, for instance." Former Chancellor Gerhard Schröder, of course, famously found employment with several of Russia's state-owned energy companies after leaving office.
UBER FILES UPDATE: The Commission has received ex-Commissioner Neelie Kroes' requested response to reports that she was working for Uber during her cooling-off period and is studying it closely, a spokesman told EU Influence on Monday.
NEW ARBITERS: The Commission's Independent Ethical Committee — created in 2018 to decide whether ex-Commissioners' new gigs are compatible with guidelines in the EU treaties — got two new members Wednesday: Elisabeth Morin-Chartier, a former European People's Party MEP from France, and Jerzy Plewa, a former director general for agriculture and urban development at the Commission. They join Allan Rosas, an ex-European Court of Justice judge, who was appointed for a second term. The new members replace Dagmar Roth-Behrendt and Heinz Zourek, who were term-limited.
APÉRO ANECDOTE OF THE WEEK: (To be awarded only when there's a clear winner — and when the laureate agrees to be identified.)
This week's winner is Christian Skrivervik, head of press and comms at European Movement International. EMI a network of pro-EU, pro-democracy advocates – so it was pretty weird when they started getting a lot of enthusiastic interest a few years ago from rightwing nationalists. At european campaign playbook's campaignPro mentorship programme drinks, Skrivervik revealed the explanation: "The Movement" was the name of Trump strategist Steve Bannon's European populist organization. Despite the overlapping names, the two groups couldn't have more opposite aims, but Skrivervik quipped that EMI was happy to send along a pro-EU pitch (and hold on to the contact information).
PRO-TIP: An occasional section where I ventilate about boneheaded PR practices.
Read the room — and the news: Dear EasyJet marketing team, the EasyJet public affairs team would like a word. So much for #JetZero.
This alert showed up Wednesday morning on phones with the EasyJet app:
Maybe the outcry (even this newsletter) is getting logged as "earned media," but that's cynical even to EU Influence's jaundiced eye.
(H/t my colleagues Giovanna Coi and Karl Mathiesen — whose tweets are for sure read by EU climate policymakers.)
INFLUENCERS
COMMERCE
— Isabel Yglesias has been named head of EU Affairs at the Confederation of Spanish Employers and Industries (CEOE). Her last post was head of the European Cleaning and Facility Services Industry.
CONSULTING AND COMMS
— Brussels-based consultancy MUST & Partners signed a "strategic partnership" with the Italian firm Comin & Partners.
— SEC Newgate signed a tie-up with Prague-based Best Communications.
— Jan Hromadko has been promoted to managing director at Teneo in Brussels.
FINANCE
— Corrado Camera, a veteran adviser to the U.S. Trade Representative in Europe, joins ICI Global in Brussels as director, public policy and regulation.
HEALTH
— Maria Teresa Buco leaves the Trade Council of Denmark in BENELUX to join the Novo Nordisk Foundation as public affairs manager.
— Harald Boerekamp is the new director of EU corporate government affairs at Haleon, via the Flemish home affairs agency.
SUSTAINABILITY
— PepsiCo has promoted Elise Demaeght to the role of manager EU corporate affairs, working on sustainability issues.
— Giorgio Severi is a new consultant on sustainability at Acumen Public Affairs.
TECH
— After a stint heading Access Partnership's Brussels office, Fabrizio Porrino is joining software company ServiceNowto lead government relations efforts for Europe, the Middle East, and Africa.
QUIZ ANSWER: D. Anouk Faber. The assistant and adviser to Jobs and Social Rights Commissioner Nicolas Schmit has had the second highest number of meetings in the Von der Leyen Commission, according to Transparency International EU, clocking in at 502. Her boss is No. 3, with 462 meetings for Schmit.
THANKS TO: Florian Eder; visual producer Giovanna Coi, web producer Ellen Boonen and my editor Nicholas Vinocur.
---