Spat reinforces concern about Giorgia Meloni's readiness to work constructively with EU.
On taking power last month, new prime minister Giorgia Meloni tried to reassure Italy's European partners that she was ready to make the leap from confrontational opposition firebrand to pragmatic leader.
Yet Italy's treatment of a charity ship carrying 234 migrants rescued from the Mediterranean has already triggered a spat with France and reinforced concerns about the rightwing leader's intention to engage constructively with the EU — as well as raised questions over the new government's diplomatic competence.
Italy refused to allow SOS Méditerranée's Ocean Viking to dock for nearly three weeks, forcing the vessel to sail to France, where the passengers — including 57 children — were disembarked.
Paris strongly criticised Italy's conduct and scrapped plans to take 3,500 migrants from Italy, agreed as part of an EU-wide deal to relocate 8,000 asylum seekers from the countries of their first arrival. France has also reinstated border controls with its neighbour.
Laurence Boone, French minister for EU affairs, publicly accused Meloni's government of "a breach of trust" with France and the EU and of violating international law.
Meloni, who campaigned on a pledge to stem the flow of migrants travelling from north Africa across the sea to Italy, has professed bewilderment at the French response, describing it as "incomprehensible" and "unjustified".
But the souring of relations just weeks after a positive meeting with French president Emmanuel Macron has fuelled debate over whether Meloni genuinely failed to anticipate the impact of her government's stance or whether she intended to take a deliberately confrontational approach with the EU.
"The overall impression was that this was not something planned but something that went out of control," said Nicoletta Pirozzi, head of EU programmes at Rome's Institute of International Affairs. "They made mistakes. When you look at their diplomatic behaviour, it was something you do not expect from a government that [said it] had very clear European objectives."
But Cecilia Sottilotta, a political-science professor at the University for Foreigners of Perugia, said that although lack of experience may have played a role, the affair could also reflect the government's instinct to inflame passions around the issue of migration to maintain support among its rightwing base.
"They don't really want to solve anything with the EU. If there is a constant emergency, and if they can wage this invented war against migrants and other 'bad European partners who are selfish and cannot do their part', it is convenient," she said. "If the problem of migration was solved tomorrow, these parties would lose 60 per cent of their votes right away."
The number of migrants arriving in Italy after crossing the Mediterranean is far below the 2016 peak of more than 181,000. But the total has risen in the past two years.
Meloni said on Friday that more than 90,000 had reached Italy's shores so far in 2022. She also complained that the EU plan to disperse asylum seekers was not working well, with only 117 relocated from Italy since the plan was agreed this summer and just 38 sent to France.
---
Arrivals to Italy by sea are rising again, after a sharp drop a few years ago
Annual arrivals by sea of refugees and migrants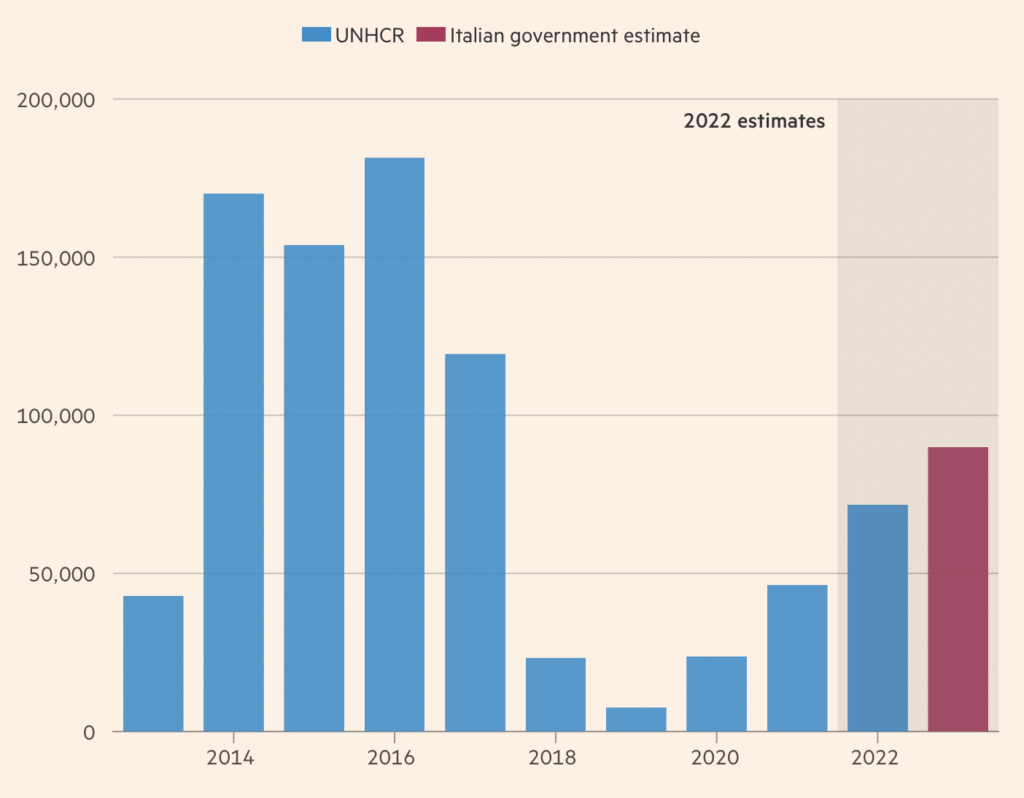 ---
Members of Meloni's rightwing coalition led by her Brothers of Italy party have long criticised humanitarian organisations such as SOS Méditerranée, Doctors without Borders and SOS Humanity, which operate ships to rescue migrants from unseaworthy boats. Meloni has argued such missions encourage people to undertake the risky Mediterranean crossing in the knowledge they will be aided if they are in distress.
The Ocean Viking is one of four such ships to have sought shelter in Italy since Meloni took power on October 22. Rome allowed three to dock, although it tried unsuccessfully to let only passengers it considered vulnerable to disembark. The government ignored appeals from the Ocean Viking, which then sailed to France.
Doubts about Italy's diplomatic competence were fuelled by a statement by Meloni on Wednesday night expressing "heartfelt appreciation" to France for agreeing to receive the ship. The next morning, France said it had not agreed and attacked Italy for abdicating its legal and moral responsibilities to a vessel in its international search and rescue area.
Meloni later told reporters her statement had been prompted by an Italian news agency report that France would take the boat, and that when the story was not denied by Paris after eight hours she felt she should express her gratitude.
Analysts have expressed bemusement at Meloni's claim, with its suggestion of naïveté and failure to use official diplomatic channels to communicate with an important neighbour.
But Alberto Alemanno, a professor of EU law at HEC Paris, said the Italian prime minister probably knew precisely what she was doing and "set a trap for Macron" as she sought to force the issue of migration higher up the EU's agenda.
As prime minister of Italy, she is expected to represent the Italian interest at the table. This does not necessarily mean to . . . mechanically say 'yes' to everything in Brussels. She is taking a political stance that is helping her political momentum at home.

Alberto Alemanno
Italian president Sergio Mattarella spoke to Macron on Monday and the two issued a statement affirming the importance of the countries' relationship.
But Pirozzi warned the episode could have lingering consequences. "European politics is not confrontational except in a few cases. It is done by bargaining and diplomatic contacts. Italy is now very much isolated at the beginning of the new government's mandate. It is not good for Italy and it is not good for Europe."
---